Spot Trends avoid Ranging markets
The main goal of trading is Buying Low and Selling High. So, why do you still lose money? Emotions and Noisy charts. To avoid this, you need to follow a systematic trading.
HOW DOES NOBLE IMPULSE WORK

Upward arrow signals tells you when you're in a suggested buy area of a currency pair or stocks.
Downward arrow signals tells you when you're in a suggested sell area of a currency or stocks.
Arrow signals tells you when a potential entry/exit is happening based on a sudden surge in movement.
Noble Impulse dots allows you to quickly visualize the trend, whether you are in a strong bullish trend, strong bearish trend or in a ranging market.

THE PROBLEM

The market doesn't always go up and down on a clear direction. It slows down and consolidate for the next continuation or reversal. Most inexperience traders try to predict the next move leading to taking many losing trades.

THE SOLUTION

We developed a tool that spots trends and helps you avoid ranging market. By using Noble Impulse, you'll know when to enter and exit.

NEVER MISS OUT

Get notified whenever a potential trade is happening for stocks, cryptocurrency, and forex. You can set-up notifications that will come straight to your phone via push notifications, emails, and pop-up alerts. Note: You need VPS to receive every single alerts.

WORKS WITH ANY MARKETS

Whether you trade Forex, Stocks, Metals, Futures, or Crypto. Noble Impulse will help you determine trends and find the best possible entries.

DOWNLOAD INSTANTLY

Once you completed your purchase, a download button will instantly show on your screen. You will also receive an email containing the download links.
INTRODUCING NOBLE IMPULSE DOTS
Trending Pattern - Diagonal Dots Formation - Valid Trades

Noble Impulse dots are forming a diagonal line upwards/downwards. This indicates a strong momentum. 

Ranging Markets - Horizontal Dots Formation - Avoid Trading

Dots are forming a horizontal pattern. Noble Impulse implemented this to easily spot ranging market.
Works with any trading style Scalping, Intraday, or Swing trading
GBPUSD Result H1 Timeframe

There are total of 10 signals on this chart in which 7 are valid signals. Out of those 7 signals, 5 of them turns out to be a winner. Checkmark are the valid signals.

XAUUSD/GOLD Results H1 Timeframe

There are total of 7 signals in which 4 are valid. Out of those 4 signals, 3 of them turns out to be a winner. A total of over 400 pips for the Sell signal and another 380 pips for the Buy signal. Checkmark are the valid signals.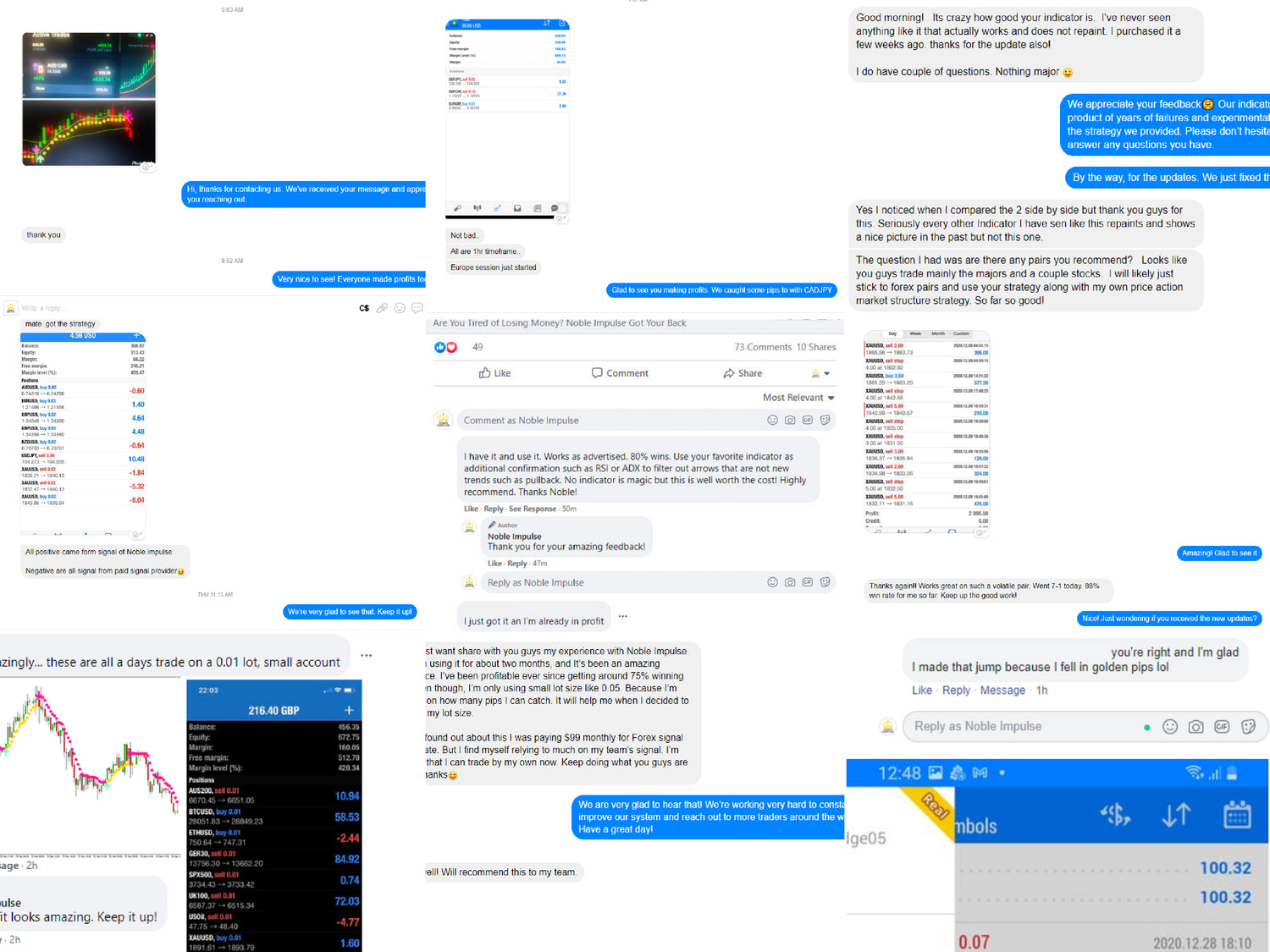 Trusted By Over 6,200+ Traders
Recent feedback from users implementing the Noble Impulse indicator and strategy. Why not give it a try? Maybe it is something that will benefit you as it did for many people.
Watch Noble Impulse in action!
Most People Hesitates but others took action!
See What People Are Saying About Us

See What People Are Saying About Us

See What People Are Saying About Us

See What People Are Saying About Us

See What People Are Saying About Us
Love it or get a refund policy!
If Noble Impulse didn't work for you. You will get your money back within 7 days! No Question Asked
Noble Impulse Dots Indicator - Advanced Buy/Sell Signal for Metatrader 4
Regular price
$189.00
Sale price
$39.00
Unit price
per
Sale
Sold out
What comes with Lifetime Pro? You will get unlimited lifetime access. Limit to 3 account activation at the same time.
View full details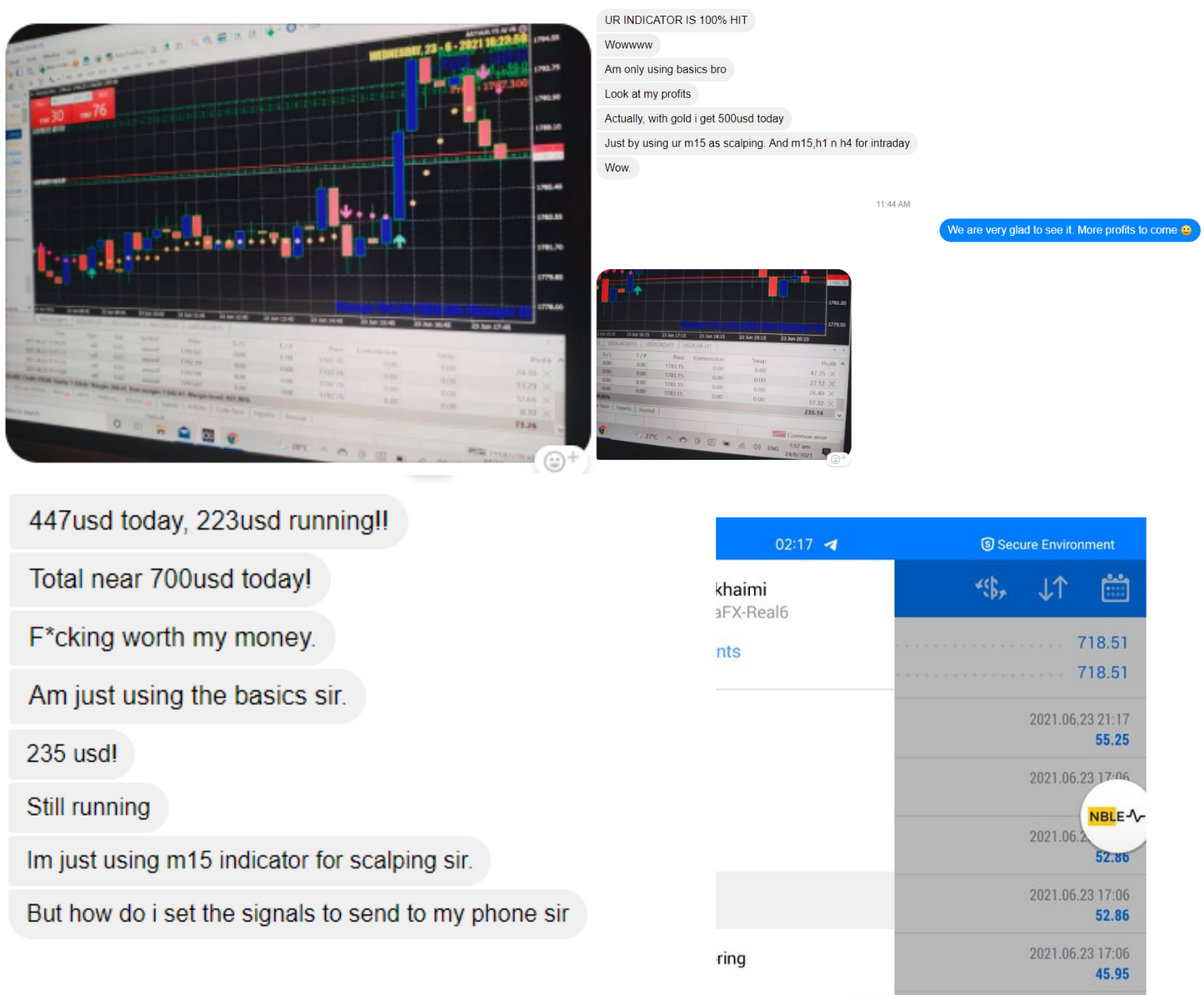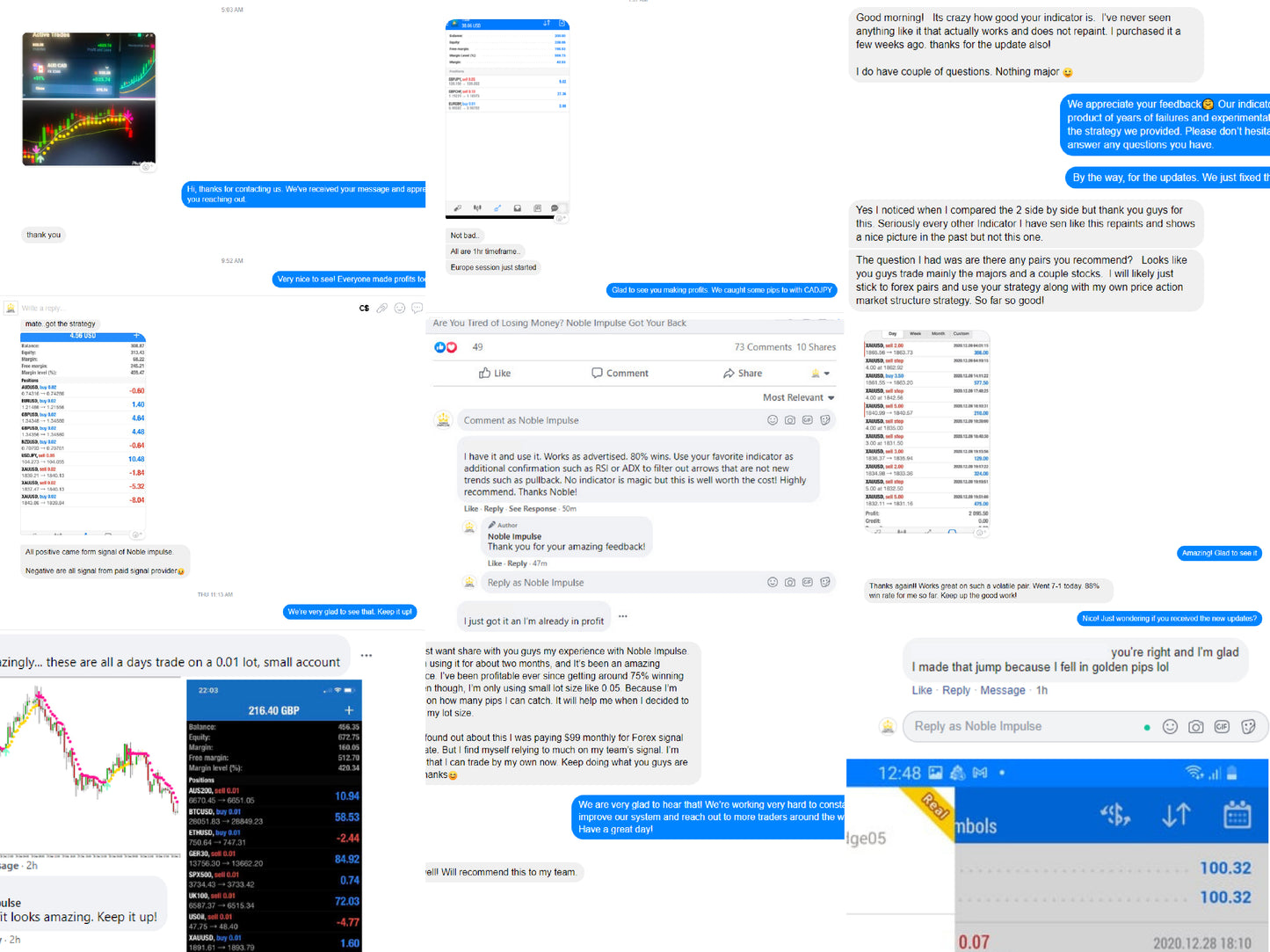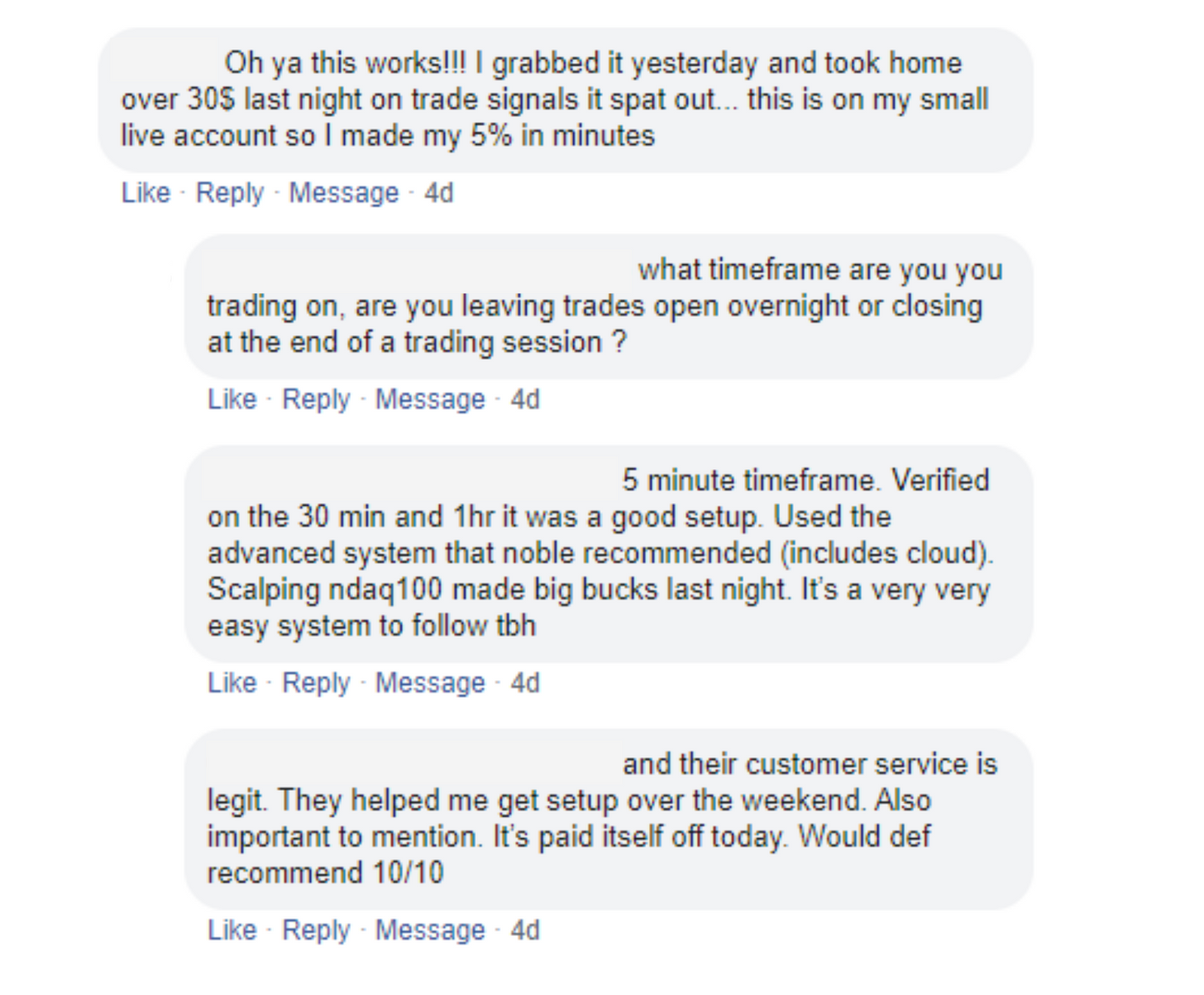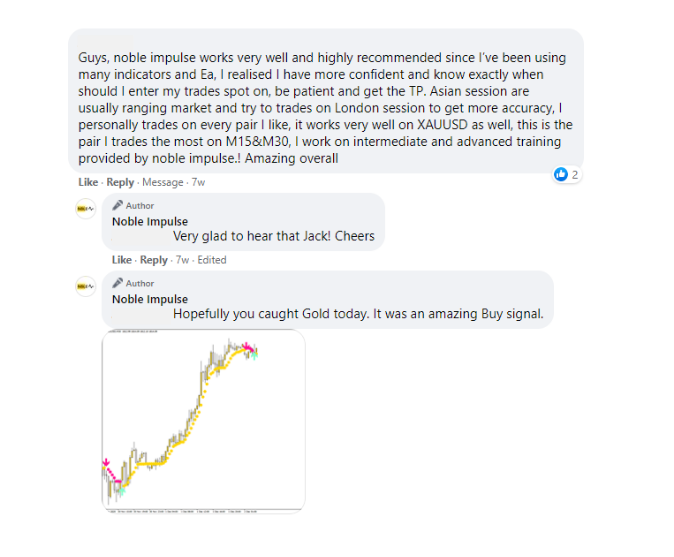 Tips and tricks
Tip#1

Sometimes, it's not about HOW you trade but knowing WHEN to trade. You may have the best strategy in the world but if you are trading at the wrong time you will most likely lose money. Why? Because there isn't enough volume to move the price in a clear direction. For FX market focus on London and New York session for consistency.

Tip#2

Know your risk before thinking about the potential reward. As for risk management, this is the only variable you can control. Always make sure that you have stop loss in place!

Tip#3

When trading with indicator, it is ideal to pair it with another indicator. This is why we include strategies that we believe is a great confluence with Noble Impulse when combined together.